In this 15-10 game, won by the 49ers, both teams played with a lot of intensity and physical play.
For the 49ers
, without top offensive stars Frank Gore, Vernon Davis, and Michael Crabtree, the first team offense played smooth and efficiently. In Alex Smith's first drive, the Niners marched down the field on a 12 play, 70 yard drive, that ended with a 4 yard touchdown for rookie RB Anthony Dixon.
In this drive, Smith was 3-3 passing in third down conversions, completing a
pass to four different receivers and going 5-6 on the drive. Rookie 1st rounders,
Anthony Davis and Mike Iupati showed positive sign in the pass protection, as
they did not miss a single blitz pickup in the first drive; and the team's best
lineman Joe Staley held his own against Vikings end Jared Allen.
The offensive line yesterday looked very solid in the pass protections, yet could
not create running lanes for Anthony Dixon. Dixon who ran hard for three
quarters essentially, posted a whopping 20 carries for only 51 yards. Dixon's 4
yard touchdown run however showed the kind of athlete he really is, as he dove
across the left pile-on for an impressive score.
In the first half for the Niners following the score, the Vikings defense played
solid not allowing another score; so at 7-3 at the half, Alex Smith is done for
the day. Smith looked cool and collected in the pocket, and made all the throws
he needed to make.
For the Vikings, Adrian Peterson came out on the first play with an explosive 13 yard swing pass.
Peterson carried the ball in his right hand with a firm handle and was determined to not putting the ball on the ground.

This is a sign all Viking fans should be pleased with. Peterson played

more than I expected all the way until the second half.
He looked good out of the backfield in the passing game, running

crisp routes and making clean catches.
Peterson finished with 3 receptions for 25 yards, one reception coming off a broken play. The 49ers defense played stout run

defense against Peterson, holding him to 17 yards on 6 carries.
I will not rant or rave on the 4 play day by Brett Favre
which ended in a sack. It is foolish to read anymore into Favre's play,
other than the fact that the ankle held up well on a hard hit from Patrick
Willis.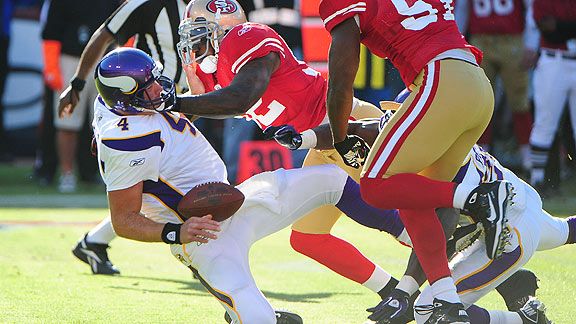 This reminds me of the scrutiny of Favre's play against the
Chiefs last pre-season....Please readers, don't waste your time, you know Brett Favre is fine. It was 4 plays and hopefully next game we see a few
series.
After Favre's first series, backup Tarvaris Jackson came into the game. Looking more and more like an NFL caliber quarterback, Jackson showed improved awareness and reads. He generated two pretty solid drives and one 3-and-out. A quality performance for Jackson, nothing spectacular but just about what you would expect for your backup QB.
Moving on, Sage Rosenfels looked awful. After three consecutive 3-and-outs, and producing zero first downs to the tune of 2-7 passing and 11 yards, the Vikings pulled their third string QB.
At the end of the game, all I can say is the entire

Vikings offense has looked pretty decent; not spectacularly good or bad.
Enter Joe Webb..
The QB/WR/athlete/project player, comes in and shows incredible agility and pocket presence, avoiding an intense pass rush and gaining a few yards. Webb didn't look great passing the ball, but rather like a earlier scaledown of Tarvaris Jackson.
Webb showcased his 4.50 speed on his 48 yard scamper into the endzone; with a cover 2 look Webb saw that the defense had not accounted for him. Seeing this, he split the safeties, running down the middle of the field for an impressive touchdown.
These late game heroics were not enough but Joe Webb certainly showed some athletic prowess in his limited time. A sack for a safety on Webb ended the game and reminded me that this kid still has some work to do in order to fulfill that potential.
Things to take away from the game:
The 49ers are very deep at the linebacker position

Outside Linebackers Manny Lawson and Travis Laboy created hard

edges, and contained a very explosive Vikings team

Patrick Willis played lights out, forcing a sack on Favre early, and

chasing down a Adrian Peterson RB out route
If you don't include the 48 yard TD run by Joe Webb, the 49ers held

the Vikings to a measly 3.3 YPC. A clip otherwise very poor for the

backfield tandem of Adrian Peterson, Toby Gerhart, and Albert

Young.
The 49ers' young prospects have shown promise

Nate Davis showed everyone the arm strength he has, and the

ability to generate drives.
Ted Ginn Jr. still dropped two tough catches, but proved why he

can be an asset to the team in 2010 when he slipped behind the

Vikings secondary en route to a 60 yard gain.
Rookie Taylor Mays dropped the thunder on one particular play,

and delivered a nasty blow.
Alex Smith finally has some continuity with OC Jimmy Raye, and

understands the offense well enough now that he can consistently

make the correct reads.
The Vikings shouldn't be worried about the post-Favre era coming up in 2011, as Tarvaris Jackson looks ready to become a NFL starter
The Vikings pass defense looks suspect, and the front seven must get to the QB in order to counteract that inability.
Peterson looked like himself, and held onto the ball.
Finally Joe Webb is an athlete; whether he plays QB or WR or whatever, he will be on the playing field in the next few years.
E.J. Henderson has fully recovered from his injury last season, and brought full intensity to this game. He flew downhill and closed running lanes; making 3 solo tackles and 4 assisted.
Both teams played with intensity, yet both need to clean up; as is the case with most pre-season games. Hopefully we can see Frank Gore, Vernon Davis, and Michael Crabtree this preseason for the Niners, as well as Percy Harvin and Sydney Rice for the Vikes
.