Toben Opurum, #35, DE, Junior, 6'2 240 lbs
Meet Toben Opurum; former running back/fullback, now defensive end, future NFL draft prospect, and junior from Kansas University. Opurum has taken a unique path to where he is and here is his story.
Going back to his high school playing days, Toben Opurum was known as a humorous, lighthearted, and enjoyable character. A stark contrast to his temperance, Opurum runs with a "punch you in the mouth mentality". Opurum plays with a mixture of both power and speed (220+ lbs frame and 4.5 40 yard dash), and has excellent vision to go along with that talent.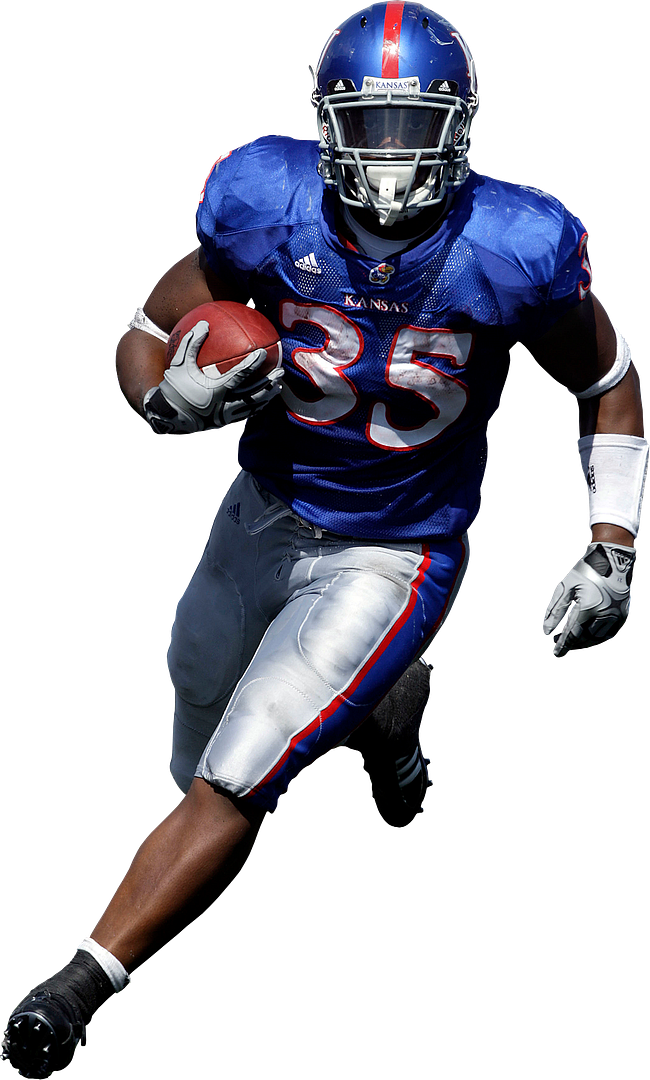 A Texas native like myself, Toben Opurum graduated from Plano East where he amassed 882 yards on just 107 carries, totaling 8 touchdowns. With slightly over 200 carries during his junior and senior seasons, Opurum compiled nearly 1500 rushing yards along with averaging over 7 yards per carry. As a junior, Opurum caught 27 passes for 574 yards (over 20 yards per reception!) and 6 touchdowns; used primarily as a runner however in his senior season, Opurum's receiving numbers dipped to 228 yards and 0 touchdowns despite increasing his receptions by 4 passes (31 catches).
Rivals gave Opurum a 4 star recruit rating, and labeled Toben as the 3rd best fullback recruit in the nation. Despite receiving offers from prestigious schools such as Florida, Nebraska, Notre Dame, Purdue, and Texas Tech to play fullback, Opurum insisted on being recruited as a tailback. Enter then-Kansas Jayhawk coach Mark Mangino. Mangino understood Opurum's desire to be a starting tailback and believed Toben could develop into a more than capable starter. So on December 23, 2008, Toben Opurum committed to Kansas University to play running back.
Toben Opurum running in his freshman season
As a freshman, Toben Opurum thrived in a running back by committee approach, spelling the shifty upperclassman Jake Sharp. Opurum's size/speed combination, power and ball carrier vision were evident in the 2009 season; rushing 113 times for 554 yards and 9 touchdowns, Opurum became the first freshman to lead the team in rushing in 7 years (Clark Green, 2002).
Heading into last season, Opurum had to have high hopes of becoming the featured tailback for many reasons; 1) the only other player that rivaled Opurum's effectiveness running was Jake Sharp who had just graduated, 2) he led the team in rushing and remained in high esteem of the coaching staff, and 3) the man who would be next in line happened to be an incoming true freshman (J. Sims). James Sims was himself, a top notch Texas running back recruit who drew high praise from scouting services across the country.
So with somewhat of a competition for the starting running back position between the two favoring Opurum during preseason spring ball, something suddenly and quickly happened that would change the complexion of Toben Opurum's football career entirely.
New HC, Turner Gill
Coach Mangino and the current regime began to be replaced; Buffalo Head Coach Turner Gill was hired and along came an entirely new regime. Placing a premium on speed and athleticism on both defense and offense, Gill decided to hand the reigns of the running back position to untested freshman James Sims. As a result, Opurum was not only demoted from the starting running back role, but relegated to playing linebacker on defense.
The afore mentioned personality traits of "humorous, lighthearted, and enjoyable", were now all but gone from Toben Opurum. Frustrated and confused at what had occurred, Opurum simply was now playing to keep a scholarship. Accepting his new role was more difficult than ever now, as he knew he could have been at a much more renowned powerhouse had he chosen to play fullback. Instead, Opurum was lured to the idea of becoming a starting running back and came to play for Coach Mangino. But now that Mangino was gone, Opurum had to play wherever he was told.
The cause for Opurum's move to linebacker was in fact three-fold; 1) Turner Gill believed James Sims to be the future at RB, 2) His linebacking corps was decimated with injury, and 3) Opurum was a better athlete than all of his backup linebackers (all 3 backups were walk-on players). Opurum had exactly what Turner Gill wanted from his defensive players, speed and strength.
T. Opurum (left #35), lines up versus in-state rival K-State
Despite the seemingly perfect fit for Gill's scheme, through the team's first six games in 2010, Toben Opurum had still not started in a single game. At this point in the season, the Jayhawks were 2-4 with three major blowout losses to in-state rival Kansas State, Baylor, and SMU, also including a week 1 letdown loss versus North Dakota State. The Jayhawks had a non-existent pass rush that was without a quarterback sack through six games.
Wanting to stir the pot a bit and get more from his team, Gill made a very unexpected move and switched Toben Opurum's position again, but this time to defensive end. While many were surprised even at the move from running back to linebacker, more so shocking was the move to defensive end.
Although the Jayhawks went on to lose five of the final six games of their 2010 season, there was much promise from Opurum's play at defensive end. Opurum managed to have 21 tackles, 3 for loss, 1 sack, 3 tipped passes, and 1 forced fumble which resulted in a defensive return for a touchdown by a Jayhawk teammate. Toben Opurum at 6'2 and a stacked 240 lbs, is a tremendous physical specimen with an excellent blend of athleticism, speed, and power. Moreover, Opurum has really embraced the role as the team's pass rushing specialist. Opurum played impressively in the team's spring game, and will be counted upon to be a leader of the Jayhawks defense.
Toben Opurum deflecting a pass
Defensive coordinator Buddy Wyatt had much to say about the strides Toben Opurum has begun to make as a defensive player. "I'm pleased with his progress," Wyatt said. "He came to us on defense and is still learning how to play the position. Last year he really started to pick up defensive end and came on at the end of the year. I was real pleased with his effort in the offseason. He had a great spring season. I think he's going to be productive and will help the guys around him."
I expect a breakout season for Opurum, who will have participated in both spring and fall camps for the first time as a defensive end. Toben has the athletic ability to play in either a standup rushing position as a 3-4 OLB, or continue to lineup with his hand in the dirt as a defensive end in a 4-3. Although raw from a technique perspective, Opurum is willing to put in the work necessary to complete his game as a defensive player. He has the the skillset and size to play 3-4 OLB at the next level and this 2011 season could put him on the fast track to playing on Sundays.
Toben Opurum's Player Bio
Toben Opurum's Rivals Recruiting Page
Quote from Buddy Wyatt on Toben Opurum